Our Store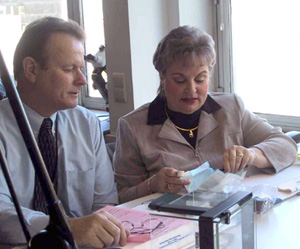 Enhancery Jewelers is a full service jewelry store specializing in fine diamonds, gemstones and beautiful jewelry. We feature custom design and redesign services as well as offering full service jewelry and watch repair.
Enhancery Jewelers was established in 1978 by owners, Martin and Kathleen White. They travel extensively around the world to find beautiful, new and unique gemstone and jewelry designs. As direct diamond importers, Marty and Kathy travel twice a year to hand pick diamonds directly from the cutting factories in Antwerp, Belgium.
As members of the Retail Jewelers of America, California Jewelers Association, Independent Jewelers Organization, Retail Jewelers Organization and the Better Business Bureau, we work hard to provide a professional environment for our customers.
MEET THE TEAM
MARTIN WHITE- Co-Owner
Marty is a graduate of San Diego State University with a degree in Business Administration. He is a member of the Greater Navajo Area Business Association and the San Diego East County Chamber of Commerce. Marty has been helping customers create beautiful custom designed jewelry for over 30 years. His specialty is helping customers create beautiful new pieces from their existing or inherited jewelry.
KATHLEEN WHITE, G.G., GIA – Co-Owner
Kathy is a Graduate Gemologist from the Gemological Institute of America. Enhancery Jeweler's insurance appraisals for our customer's purchases and for their family heirlooms are preformed by her. Kathy is a past President, and a founding board member of the GIA Alumni Association of San Diego County. Kathy was also an instructor of gemology, and past President for the San Diego Gemological Society. She is a past President and currently active in Soroptimist International of La Mesa, and a current board member of the Mt. Helix Park Foundation.
MARIA HOPKINS, A.J.P., GIA- Store Manager
Maria is an Accredited Jewelry Professional and has earned her Diamond Certificate from the Gemological Institute of America. Maria has over ten years experience in jewelry sales, custom design, as well as redesigning jewelry. She also has a degree in Fashion Merchandising. Maria is currently active in Christian Youth Theater as co-chairman of show productions.
DELANE HURLEY, A.J.P., GIA- Assistant Store Manager
Delane has over five years experience in jewelry sales, custom design as well as redesigning jewelry. Delane has earned her Accredited Jewelry Professional title from the Gemological Institute of America.